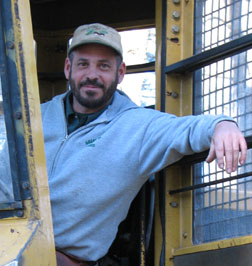 Great Woods Companies is owned and operated by Robert O. Lussier, Jr., who has over 30 years experience in the logging and landclearing industry. He got his start in New England where he was a certified logger in the States of CT, MA, and RI. In August of 2009 he moved his entire business to SC because the decline in the home building industry led to a drastic drop in the need for wood up north. His move to the south proved to be a good decision, one that he wishes he had made much sooner. He has found the people here are much more receptive to logging than what he was used to, and there is an abundance of timber to cut. He is grateful for the opportunity to be here, and is proud to call South Carolina his home.
Bob is Top Logger Certified and Great Woods is fully licensed and insured. Our client base includes private landowners, contractors, game preserves, states and municipalities. We treat every project individually, as each client has their own goals and needs. Please visit each of our pages to learn more about what Great Woods can do for you. If you have questions or are interested in speaking with someone, you may contact us by phone or email (see our contact page for info).
We at Great Woods look forward to hearing from you, and hope you will give us an opportunity to work with you on current or future projects.